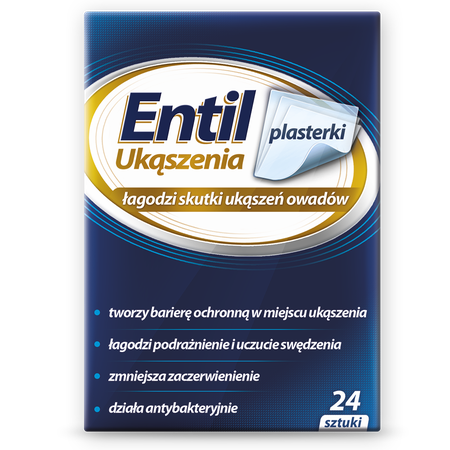 Entil insect bite patches
Entil insect bite patches create a protective barrier on top of a bite, protecting the skin from becoming infected. They work to reduce redness, relieve irritation and itching. Menthol cools and soothes irritated skin. The patches provide good adhesion and are very easy to apply. They are transparent, allowing you to monitor the affected area without the need to remove the patch.

create a protective barrier on the skin on top of a bite
relieve irritation and itching
reduce redness
Additional information
How to use:
Tear open the sachet and remove the film containing the patches. Peel off one patch and apply it to clean and dry skin on top of a bite. Replace with a new patch every 8 hours. Continue using the patches until irritation resolves.
Composition
Acrylates Copolymer, Glycyrrethinic Acid, Bisabolol, Menthol.
Marketing Authorization Holder
Aflofarm Farmacja Polska Spółka z o.o.
Information for the consumer
Cosmetics are substances intended for external contact with the human body: skin, hair, lips, nails, external genitals, teeth and mucous membranes of the mouth, used solely or principally for their purity, care, protection, perfumery or beautification.
See how we care about quality
All our products are subject to strict safety requirements
We use rigorous quality control standards and procedures to ensure the highest level of safety for all our products.
See how we care about safety