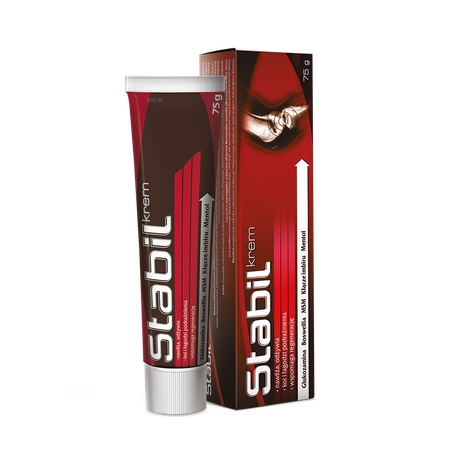 Stabil
Stabil cream is an active formula intended for use on the skin of the joint areas, designed for massage and care. The cream moisturizes, nourishes, soothes and alleviates irritations and promotes regeneration.

It is intended for the elderly as well as persons who are physically working and intensively practicing sports. The addition of menthol guarantees a pleasant cooling sensation.
Additional information
Glucosamine is a natural protein-carbohydrate substance, which constitutes a component of articular cartilage and the so-called synovial fluid. It indicates moisturizing and regenerating properties as well as increases the smoothness and elasticity of the skin. Methylsulfonylmethane (MSM) is an organic form of sulfur, which serves as the basic component of protein molecule structures. Due to its antioxidant properties, it can neutralize free radicals. Furthermore, it facilitates the penetration of nutrients through cell membranes and is involved in the formation of collagen fibers and keratin. Ginger stimulates the skin's natural immunity and provides antioxidant and anti-aging properties. Together with Boswellia serrata resin extract, which is a source of valuable boswellic acid, it reduces redness and soothes skin irritations. Menthol cools, refreshes and provides a pleasant relaxation as well as supports the action of other ingredients of the cream.
Composition
Aqua, Cetyl Alcohol, Stearyl Alcohol, Cetyl Palmitate, Octyldodecanol, Glucosamine Sulfate, Dimethyl Sulfone, Glycerin/Zingiber Officinale Root Extract, Polysorbate 60, Sorbitan Stearate, Benzyl Alcohol, Mentha Arvensis Leaf Oil, Boswellia Serrata Resin Extract.
Contraindications
Allergy to any product ingredient. Do not use around the eyes and mucous membranes.
Marketing Authorization Holder
Aflofarm Farmacja Polska Spółka z o.o.
Information for the consumer
Cosmetics are substances intended for external contact with the human body: skin, hair, lips, nails, external genitals, teeth and mucous membranes of the mouth, used solely or principally for their purity, care, protection, perfumery or beautification.
See how we care about quality
All our products are subject to strict safety requirements
We use rigorous quality control standards and procedures to ensure the highest level of safety for all our products.
See how we care about safety