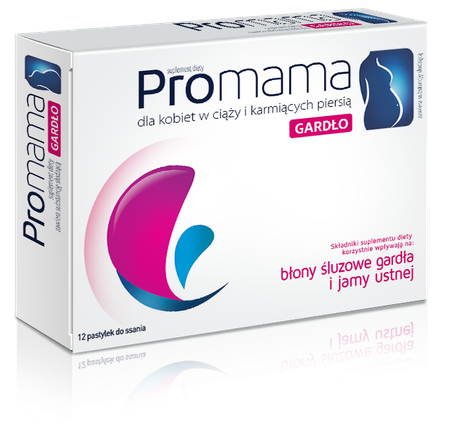 ProMama Gardło
Food supplement in the form of lozenges, with ingredients that help maintain normal condition of the mucous membranes, including throat mucosa (niacin) and support the proper functioning of the respiratory and immune systems (powdered dog rose).
Character lozenges. 12 pcs
Kategoria Dietary suplement
Additional information
Directions for use: Adults: 1 lozenge up to 4 times a day. Suck slowly.
Composition
Ingredients: dog rose powder, raspberry powder, niacin, vitamin C, propolis extract.
Marketing Authorisation Holder
Aflofarm Farmacja Polska Spółka z o.o.
Information for the consumer
Food supplements should not be used as substitutes for a varied and well-balanced diet. A varied and balanced diet and healthy lifestyle are essential for good health.
See how we care about quality
All our products are subject to strict safety requirements
We use rigorous quality control standards and procedures to ensure the highest level of safety for all our products.
See how we care about safety