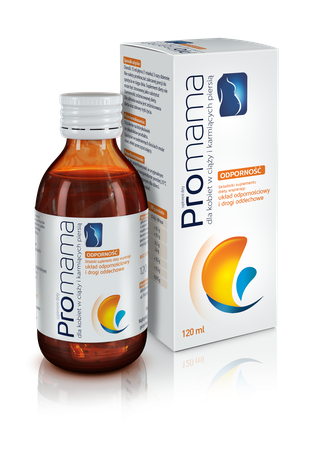 ProMama Odporność
Recommended for pregnant and breastfeeding women who wish to support the proper functioning of the immune system. Contains chokeberry and raspberry juice, blackcurrant concentrate, dog rose extract and garlic extract that support immunity and proper functioning of the airways.
Kategoria Dietary suplement
Additional information
Directions for use: Adults: 15 ml of the fluid (one measuring scoop) three times a day.
Composition
Ingredients: dog rose extract, garlic extract, chokeberry juice, blackcurrant concentrate, raspberry juice.
Marketing Authorisation Holder
Aflofarm Farmacja Polska Spółka z o.o.
Information for the consumer
Food supplements should not be used as substitutes for a varied and well-balanced diet. A varied and balanced diet and healthy lifestyle are essential for good health.
See how we care about quality
All our products are subject to strict safety requirements
We use rigorous quality control standards and procedures to ensure the highest level of safety for all our products.
See how we care about safety