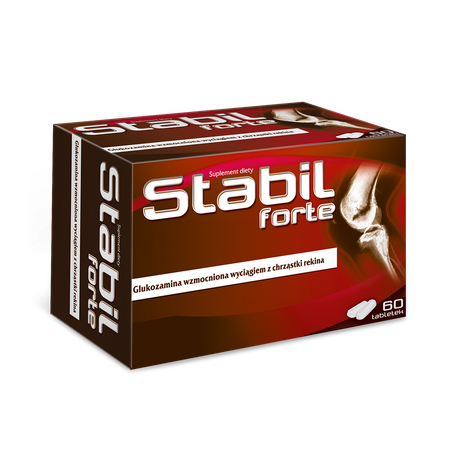 Stabil forte
Stabil forte is a food supplement recommended for adults, older people and persons actively practicing sports.

Stabil forte contains glucosamine, which constitutes a structural element of connective tissue in the human body. One of its types is cartilage connective tissue, which builds, among others, the articular surfaces. In addition, glucosamine contained in Stabil forte has been strengthened with shark cartilage extract.
Character tablets. 60 tab.
Kategoria Dietary suplement
Additional information
Directions for use:
Adults: 1 tablet 3 times a day.

The preparation is recommended to be consumed during a meal. During use, it is recommended to drink about 2-3 liters of fluids per day.
Do not exceed the recommended daily dose.
The food supplement cannot be used as a substitute of a varied diet.
A varied diet and a healthy lifestyle are important for your health.
Composition
2 KCl glucosamine sulfate, bulking agents: cellulose and carbon dioxide, powdered shark cartilage, glazing agent: hydroxypropyl methylcellulose, firming agent: polyvinylpyrrolidone, colour: titanium dioxide, glazing agents: magnesium salts of fatty acids, hydroxypropyl cellulose, beeswax and carnuaba wax.

The product contains fish and products thereof.
Contraindications
Allergy to any product ingredient. The productis not suitable for pregnant and breastfeeding women.
Marketing Authorisation Holder
Aflofarm Farmacja Polska Spółka z o.o.
Information for the consumer
Food supplements should not be used as substitutes for a varied and well-balanced diet. A varied and balanced diet and healthy lifestyle are essential for good health.
See how we care about quality
All our products are subject to strict safety requirements
We use rigorous quality control standards and procedures to ensure the highest level of safety for all our products.
See how we care about safety