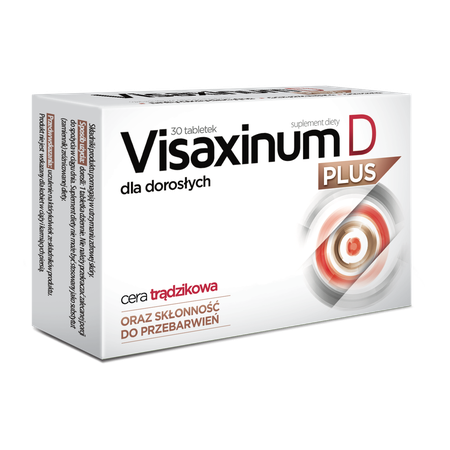 Visaxinum D Plus
Acne prone skin in adults may be associated with hormonal fluctuations imbalance, blood glucose levels, stress, and may also be accompanied by discolorations or blemishes. Therefore, to counteract this, the ingredients contained in Visaxinum D Plus act from the inside, help regulate hormonal activity (vitamin B6), maintain healthy blood sugar levels (Gymnema sylvestre leaf extract), ease mood swings (lemon balm Mellisa Oficinalis herb extract), but also affect skin appearance by maintaining its healthy look due to lightening discolourations and brightening the skin (daisy flower extract).
Character tablets. 30 tab.
Kategoria Dietary suplement
Marketing Authorisation Holder
Aflofarm Farmacja Polska Spółka z o.o.
Information for the consumer
Food supplements should not be used as substitutes for a varied and well-balanced diet. A varied and balanced diet and healthy lifestyle are essential for good health.
See how we care about quality
All our products are subject to strict safety requirements
We use rigorous quality control standards and procedures to ensure the highest level of safety for all our products.
See how we care about safety