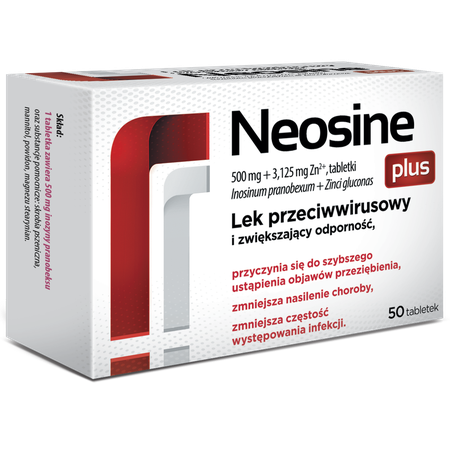 Neosine plus
Neosine plus contains two active substances: inosine pranobex and zinc gluconate. Inosine pranobex has an antiviral effect and increases the body's immunity (stimulates the activity of the immune system). Zinc supports the body's immune system, has an anti-inflammatory and antiviral effect. Zinc shows antiviral activity and contributes to normal functioning of the immune system. Treatment with zinc gluconate may lead to a faster resolution of the symptoms of the cold, reduce the severity of the disease and psychomotor deficits induced by the cold and reduce the incidence of infections.
Active substance
1 tablet contains 500 mg of inosine pranobex (Inosinum Pranobexum) and 3.125 mg of gluconate zinc ions (Zinci gluconas).
Indications
The drug is indicated for use in adults and children over the 1st year of age.
- It supports immunocompromised persons, in case of recurrent upper respiratory tract infections.
- It helps in the treatment of lip and face herpes caused by the Herpes simplex virus. Neosine plus can only be used in patients who have a history of infection with the herpes virus.
- The drug is used in states of increased demand for zinc in the above mentioned indications.
If there is no improvement after 5 to 14 days or if the patient feels worse, please see a doctor.
Contraindications
Contraindications:
- if the patient is allergic to the active substances (inosine pranobex or zinc gluconate) or any of the other product ingredients. Symptoms of an allergic reaction may include: skin rash, itching, difficulty breathing, swelling of the face, lips, throat or tongue;
- if the patient currently suffers from gout (severe joint pain with swelling and reddening of the skin or an exudate in large joints) or tests have shown an increased concentration of uric acid in the blood.
Marketing Authorisation Holder
Aflofarm Farmacja Polska Spółka z o.o.
Information for the patient
Read the package leaflet for indications, contraindications, side effects, dosage as well as information on the use of this product, or consult your doctor or pharmacist before use. Misusing medicines may be dangerous to your life or health.
See how we care about quality
All our products are subject to strict safety requirements
We use rigorous quality control standards and procedures to ensure the highest level of safety for all our products.
See how we care about safety