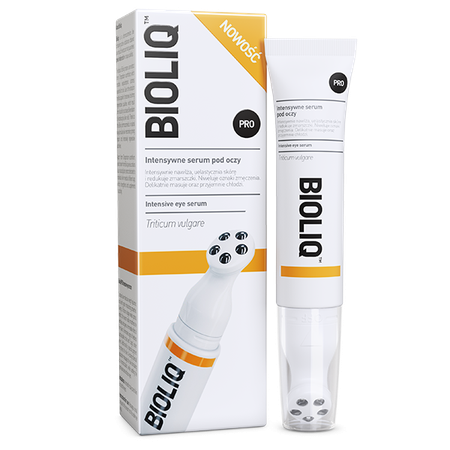 Bioliq PRO Intensive eye serum
Contains low molecular weight hyaluronic acid with great moisturizing properties. Owing to Triticum vulgare wheat sprouts extract, the serum visibly smoothens the wrinkles and gives an immediate effect of firm skin. It eliminates signs of tiredness such as dark circles and "bags" under eyes. Additionally a special pigment brightens the skin. A cooling roller ball applicator massages the skin stimulating its microcirculation, while soothing the gentle area around your eyes.
Character cream. 15 ml
Character cream. 15 ml
Character serum. 15 ml
Character serum. 15 ml
Character serum. 15 ml
Additional information
Intended for daily care of skin around the eyes.
Marketing Authorization Holder
Aflofarm Farmacja Polska Spółka z o.o.
Information for the consumer
Cosmetics are substances intended for external contact with the human body: skin, hair, lips, nails, external genitals, teeth and mucous membranes of the mouth, used solely or principally for their purity, care, protection, perfumery or beautification.
See how we care about quality
All our products are subject to strict safety requirements
We use rigorous quality control standards and procedures to ensure the highest level of safety for all our products.
See how we care about safety